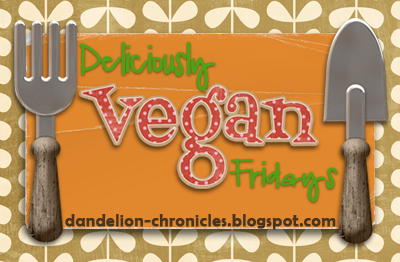 Welcome to another edition of Deliciously Vegan Fridays! I'm hoping that someone will link up and share another vegan recipe with us this week! Even a salad with no toppings that include animal products or meat is technically vegan so feel free to linkup and share what you made even if it seems simple. This week's recipe: Southwestern Stuffed Spaghetti Squash.

I found the recipe online here. I thought it was really easy to make and didn't require rare ingredients which makes it super easy to pick up the needed items at the store. I still had some leftover soy cheese from the pesto recipe I made a few weeks ago so that made it even easier. The only hard part was getting Dave to agree to eat squash (because he hates squash), but he was a good sport and was willing to try it out.
Southwestern Stuffed Spaghetti Squash
Ingredients:
1 medium spaghetti squash, cut in half
1/2 medium yellow onion, diced
1/2 medium red pepper, diced
1 can corn
1 can black beans
1 Tbsp nutritional yeast
2 Tbsp vegan tzatziki
1/2 cup shredded non-dairy cheese (I used soy cheese)
Salt, pepper, chili powder, onion powder, and garlic powder to taste
Directions
1. Cut the spaghetti squash in half and scrape to remove the seeds. Rub a little bit of olive oil on the inside side, sprinkle with salt and pepper. Place the two halves on a cookie sheet, with the inside part facing down. Roast in the oven at 375F for 50 min or until tender. Allow to cool for 30 min.
2. Use a fork to scrape the inside out, forming spaghetti-like clumps of squash. Just scraping it will cause it to look like spaghetti - no special moves necessary.
3. In a pan, sauté the onion and pepper on low. Then add the spaghetti squash, corn, black beans, salt, pepper, nutritional yeast, and spices, and cook for another 5 min, stirring occasionally. If you'd like, you can stir in Tzatziki to make it more creamy.
4. Transfer the squash-bean-corn mixture back into the now hollow squash skin. Top with some shredded soy cheese. Stick it back into the oven for about 5 min until the cheese has melted. Scoop out and enjoy!
See?! Super easy and we thought it tasted pretty good. The only thing I would do differently is drain and rinse the black beans before adding them to the skillet. On a scale of 10, we would give it a 7. This recipe made a lot of food so we'll be having leftovers all weekend :-)
That's my recipe for the week. If you made a vegan recipe and would like to share be sure to link up below. Happy Friday!