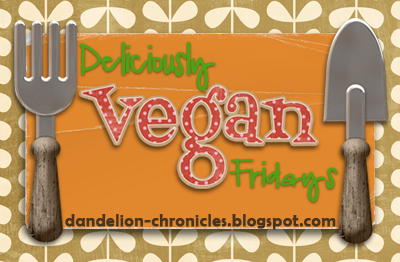 Welcome to another edition of Deliciously Vegan Fridays! This week's recipe: Penne and Broccoli with Tomatoes, Walnuts, and Raisins.

I found this recipe in the book Vegan on the Cheap. It looks like there are a lot of ingredients involved but really I just needed to buy the broccoli, penne, and tomatoes. This is super easy to make and didn't make a huge mess or require lots of pots an pans. That alone makes it a winner in my book!
Penne and Broccoli with Tomatoes, Walnuts, and Raisins
Ingredients:
1 pound broccoli, cut into 1/2 inch florets
1 pound penne
3 Tbsp olive oil
4 garlic cloves, minced
1/3 cup toasted walnut pieces
1/3 cup raisins
1 tsp dried basil
1 tsp dried oregano
salt and pepper
1 (14.5 oz) can diced tomatoes
1 (14.5 oz) can crushed tomatoes
1/2 tsp sugar
Directions:
1. Steam the broccoli until just tender, about 4 or 5 minutes. Drain, run under cold water to stop the cooking process.
2. In a large pot of boiling salted water, cook the penne over medium-high heat, stirring occasionally, until al dente, about 10 minutes.
3. While the pasta is cooking, heat the oil in a large skillet over medium heat. Add the garlic and cook until softened, about 1 minute. Add the walnuts, raisins, basil, oregano, and salt and pepper to taste. Stir in the diced tomatoes with their juice, crushed tomatoes, and sugar and simmer until the liquid reduces slightly.
4. Add the cooked broccoli and toss to heat through.
5. When the pasta is cooked, drain well and return to the pot. Add the broccoli mixture and toss gently to combine. Serve hot.
On a scale of 10, we would give it a 8. Again, this recipe made a ton of leftovers so we have been enjoying it for lunches all week!
That's my recipe for the week. If you made a vegan recipe and would like to share be sure to link up below. Happy Friday!