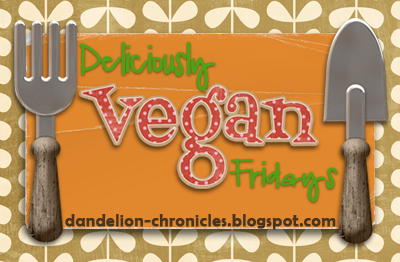 Welcome to another edition of Deliciously Vegan Fridays! I'm a little late posting today but, hey, it's the holidays; can you blame me? Anyway, on to this week's recipe: Chocolate - Blueberry Crumble.

I found this recipe in Vegan on the Cheap. Blueberries are a little out of season so I used frozen and I think they worked out great. I was a little intimidated by the vegan margarine, but it really wasn't bad :-)
Chocolate-Blueberry Crumble
Ingredients:
2 cups fresh or thawed frozen blueberries
1/2 cup vegan semisweet chocolate chips
1/2 cup plus 2 Tbsp sugar
Grated zest of 1 lemon
3/4 cup all-purpose flour
1/2 cup quick oats
3/4 cup vegan margarine, melted
2 tsp ground cinnamon
Directions:
1. Preheat oven to 350. In a large bowl, combine the blueberries, chocolate chips, 2 tablespoons of sugar, and zest, mixing well. Spread the mixture evenly into a 9-inch pie plate. Set aside.
2. In a medium bowl, combine the flour, oats, remaining 1/2 cup sugar, margarine, and cinnamon. Mix until crumbly. (I think I mis-measured and used too much margarine so mine was not quite crumbly. Oops!)
3. Sprinkle the mixture evenly on top of the blueberries. Bake until the top is lightly browned, about 25 minutes.
4. Cool on a wire rack at least 15 minutes before serving. Serve warm spooned into bowls.
On a scale of 10, we would give it an 8. It would be the perfect dessert after a light meal. Tons of chocolate, tons of blueberries, and a little bit of crunch. Yum!
That's my recipe for the week. If you made a vegan recipe and would like to share be sure to link up below. Happy Friday!