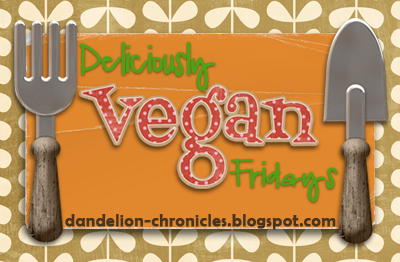 Welcome to another edition of Deliciously Vegan Fridays! This week's recipe: Super Easy Vegan Chili.

I found this recipe in The Part-Time Vegan. As the name implies, this recipe is super easy and gives you a little bit of flexibility in the ingredients you use so it can suit your taste.
SUPER EASY VEGAN CHILI
Ingredients:
1 (12 oz) jar of salsa
1 (14 oz) can diced tomatoes, undrained
2 (14 oz) cans kidney beans or black beans (we used kidney beans)
1 1/2 cups frozen vegetables of your choice (we used a mix of onions and peppers)
4 veggie burgers, crumbled (black bean burgers work great)
2 Tbsp chili powder
1 tsp cumin
1/2 cup water
salt and pepper to taste
Directions:
1. Take a stock pot and combine everything in it. Get the mixture simmering over medium-high heat for about 10 minutes.
2. Voila! Yummy and super easy chili. Enjoy!
On a scale of 10, we would give it a 9. We really liked the flavor and texture of the chili. After dinner we felt full but not over stuffed. It was perfect for a chilly night!
That's my recipe for the week. If you made a vegan recipe and would like to share be sure to link up below. Happy Friday!