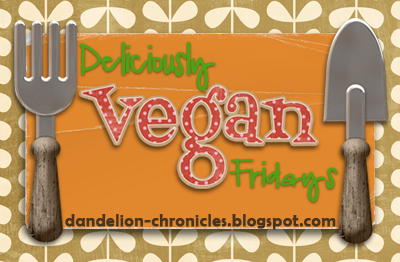 Welcome to another edition of Deliciously Vegan Fridays! If you don't know why I'm doing this be sure to check out this post. Now, on to this week's recipe: Parsley & Basil Pecan Pesto.

I found this recipe online here. This has been the easiest vegan recipe I have made so far and with the smallest mess. Don't let the vegan cream or cheese in the ingredients intimidate you - I found vegan soy cheese and creamer at Trader Joe's at a low cost. I'm sure similar things can be found at Whole Foods :-)
Parsley & Basil Pecan Pesto
Ingredients:
3-4 cloves garlic
½ cup pecan nuts
3-4 Tbsp chopped parsley
4–6 Tbsp chopped fresh basil leaves
5 Tbsp extra virgin olive oil
¼ cup vegan cheese of your choice
sea salt to taste
1 tbsp water
½ cup vegan cream
Garnish Ingredients:
¼ fresh red pepper, cut into small squares
a little sprinkle of sweet paprika
vegan parmesan cheese (optional)
freshly chopped parsley
Directions:
1.Start off by processing the garlic and pecan nuts in a food processor until finely chopped.
2. Add the parsley and basil – process also until finely chopped, then begin to add the oil, a little at a time. Next add in the rest of the ingredients, except for the water – add this in at the end, if you want to make it smoother.
3. After you have boiled and drained the pasta of your choice, set aside. Meanwhile pour a little olive oil into a casserole, heat, and add all the pesto. Allow to cook for a minute, then add the pasta. Continue to mix, and finally pour in the vegan cream.
4. Heat for a minute, then turn over into a serving bowl, and add the garnish.
For the garnish I only added the red pepper which turned out to be really good! I would have never thought to add that to pasta. Dave and I both really enjoyed the meal and it made for yummy leftovers. On a scale of 10, we would give it a 7.
That's my recipe for the week. If you made a vegan recipe and would like to share be sure to link up below. Happy Friday!