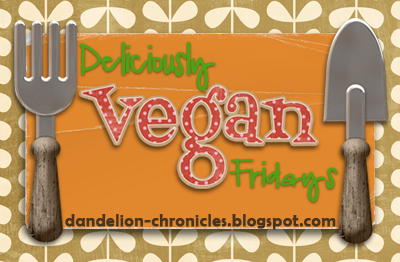 Welcome to another edition of Deliciously Vegan Fridays! This week's recipe: Peanut Butter Cup Soft Serve. I adapted this recipe from one I found online here.
Peanut Butter Cup Soft Serve
Ingredients:
2 cups banana chunks
8 Tbsp almond milk
2 Tbsp all natural peanut butter
4 Tbsp vegan mini chocolate chips
2 dark chocolate peanut butter cups
Directions:
1. In a blender, blend the banana chunks, almond milk and peanut butter on high speed for 20-30 seconds (or until smooth). Add the chocolate chips and crumble in the peanut butter cup; blend for 10-15 seconds.
2. Put mixture into an ice cream maker for 10-15 minutes or until frozen. Serve and enjoy!
On a scale of 10, we would give it a 7. It wasn't bad it just wasn't extraordinary. It only made about two generous servings, so be sure to up the ingredients if you are making it for a crowd.
That's my recipe for the week. If you made a vegan recipe and would like to share be sure to link up below. Happy Friday!