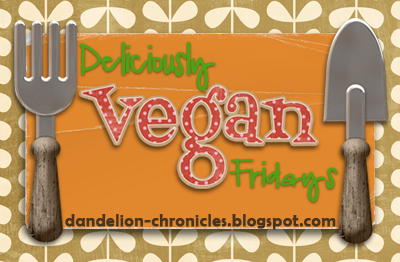 Welcome to another edition of Deliciously Vegan Fridays! This week's recipe: Baked Ziti.

I found this recipe in Vegan on the Cheap. This was our first dish made with tofu. We were a little intimidated by it at first, but we decided that if it was mixed in with pasta and marinara it couldn't be too bad :-)
Baked Ziti
Ingredients:
12 ounces ziti
3 1/2 cups Marinara Sauce
1 pound extra-firm tofu, drained and crumbled
3 Tbsp nutritional yeast
1/4 cup minced fresh parsley
1 1/2 tsp dried basil
3/4 tsp dried oregano
1 tsp salt
1/4 tsp black pepper
Directions:
1. Preheat oven to 350. Lightly oil a 3 1/2 quart casserole dish and set aside. (We used a 2 1/2 and a 1 quart casserole dish)
2. In a large pot of boiling salted water, cook the ziti over medium-high heat, stirring occasionally, until al dente, about 10 minutes. Drain well and return to pot. Add 2 cups of the marinara sauce and toss to coat.
3. In a large bowl, combine the tofu, yeast, parsley, basil, oregano, salt, and pepper.
4. Spread a thin layer of marinara sauce in the bottom of the prepared casserole. Add half of the pasta mixture and top with the tofu mixture. Top with the remaining pasta and spread the remaining marinara on top.
5. Cover tightly with foil and bake until hot, about 45 minutes. Serve hot.
On a scale of 10, we would give it a 8. We thought it still had a strong tofu flavor, but the rest of the ingredients do a good job of adding additional flavors to cover it up enough to be pretty darn good. I think we will definitely be trying tofu in another dish again soon!
That's my recipe for the week. If you made a vegan recipe and would like to share be sure to link up below. Happy Friday!