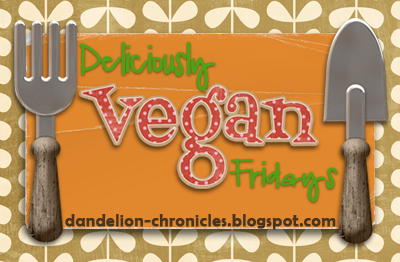 Welcome to another edition of Deliciously Vegan Fridays! This week's recipe: Cauliflower Cheese Pasta Bake.

I found this recipe online here. The prep work seemed to take a long time (boiling pasta, steaming cauliflower, chopping basil, and grating cheese), but it was still a pretty simple and straight forward recipe. We've been using Trader Joe's soy cheese for all of our vegan recipes because that's usually all I can find - but I think it's time to seek out some new options for more flavor.
Cauliflower Cheese Pasta Bake
Ingredients:

200g angel hair pasta – boiled, rinsed with cold water and set aside
250g VEGAN cheese that melts well, grated
olive oil for drizzling on top
½ a large (or 1 small) cauliflower – use the florets, steamed, and set aside
salt & pepper to taste
1 tablespoon of vegan margarine
1 cup vegan cream (I used Trader Joe's Soy Creamer)
a handful of fresh basil leaves, roughly chopped
12-15 cherry tomatoes
2-3 cloves garlic, very finely chopped (optional)
Directions:
1. Grease a 13 x 9 Pyrex (or similar) oven dish. Meanwhile, add all the ingredients, except for half the chopped basil and tomatoes, in a large bowl, and mix well with a fork.
2. Next, place in your dish, even out, and garnish with the rest of the basil leaves. Drizzle on some olive oil.
3. Place in a hot oven (we did 350 degrees) for 20 minutes, then remove from oven to place your tomatoes on top.
4. Cook for a further 20 minutes until golden all over.
On a scale of 10, we would give it a 6. This dish didn't taste bad, it just didn't have a lot of taste to it. At least not in the way these meat, cheese, butter, and egg eaters are used to. Overall it was pretty good and made for some nice leftovers.
That's my recipe for the week. If you made a vegan recipe and would like to share be sure to link up below. Happy Friday!